New factory opening in LV
Here's the press release. The space at the Tropicana (the one that was vacated in December when Brad Garrett's Comedy Club closed) soon be a Laugh Factory.
The room, as it is now (and as it has been for most of its 20+ years), is a great one for comedy. Wide, with a low ceiling. The stage is just the right height. Great sight lines.
And now it will be the Vegas branch of Hollywood's Laugh Factory. The release promises "a multi-venue comedy experience." The Factory's Jamie Masada has partnered with Joseph Merhi, CEO of Fun World Media, a producer and distributor of "cutting edge family oriented television," to build a "new comedy empire," the details of which will be announced later this month.
What constitutes a "multi-venue comedy experience?" Well, for starters, they'll offer monthly Laugh Factory "Superstar Comedy Concerts" in the 1,000-seat Tropicana Theater. (Which was, if we're not mistaken, most recently dubbed "The Gladys Knight Theater." We saw a Beatles tribute show there last year… it might prove to be an excellent venue for standup– not too big, not too small.)
So far, nothing earth-shattering… but we see that the new partners will "develop and co-produce a variety of comedy specials, television series, reality shows and films" at the Trop venues, and, we suspect, in and around Vegas, with the town as a backdrop. We've been saying for a few years now that somebody– anybody!– should produce television shows outta Vegas. It's a natural! Who doesn't love Vegas? And there are always tons of stars here! Musical acts, magicians, comics, dogs who juggle cats while riding on top of warthogs! It's exactly what television is (or was, at least) ideally suited to present. Now, Masada and Merhi may not exactly be planning any variety shows (the genre is "dead," say the critics), but surely there's a lot of "raw material" here for virtually any kind of show imaginable.
And there's mention of plans to "design a new Comedy Walk of Fame, Comedy Wall of Fame and Stand-Up Comedy Interactive Museum, inducting comedy legends and modern stand-up celebrities."
Bring it on.
Las Vegas is already a standup comedy interactive museum. And we say that in a 120 per cent good way– in the past few years of hanging out/living here, we've seen Don Rickles, Shecky Greene (3X!), and we've accidentally run into Marty Allen, Steve Rossi, George Wallace, Shelley Berman and many others. Heck, we even saw David Brenner at the supermarket!
Many comedians love performing here… or at least they should. It's dripping with comedy history. And, though it's disappearing slowly, the "Old Vegas" memorabilia that's still hanging on the walls of various restaurants and casinos always heavily features comedians. (The Male Half's cellphone wallpaper is a snapshot of a gorgeous black and white photo of George Burns and Jack Benny that hangs upstairs outside the Riviera Comedy Club! We wonder what happened to those tremendous candids that hung behind the registration desk at the now-closed Sahara?! Standup's contribution to the history and popularity of this town is right up there with the mob and Frank Sinatra. (We like to point out that one of The Rat Pack was Joey Bishop, a comedian.!) This crazy desert town is like The Holy Land of standup.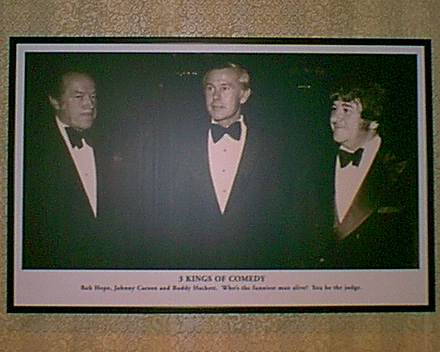 Awesome pic which hung behind the Sahara registration desk.
It's nearly always a good thing for any market when a new club opens up. Things get shook up a bit, complacency is (temporarily, at least) banished. (There's a downside that's probably unavoidable– territoriality muscles might be flexed, loyalty might be questioned or demanded, etc. So far, we haven't heard about any of that.)
There seems to be a lot of, for lack of a better word, fluidity in this market. The Trop venue didn't remain closed for very long before this announcement. And the opening of the Factory follows, by just a few short weeks, the opening of the new MGM Grand comedy venue. (The best line from that evening belongs to Ray Romano, who said, "I'd like to congratulate Brad on his new club. I was going to buy him a gift, but what do you get a guy who has everything… because of you?")
Reply to: New factory opening in LV