What would you do?
ABC runs a successful Friday night block of programming that kicks of with Shark Tank, then What Would You Do?, capped off with the human-interest heavy, 60 Minutes knock-off 20/20.
The fearless Rich Vos will be featured on What Would You Do? Friday night at 9 PM EST.
If you're not familiar the show, it's Candid Camera but with a moral angle. (And if you're too young to remember Candid Camera, it's Punk'd, but without the celebrities… and without the elaborate planning.) Basically, ABCNews reporter/producer John Quinones concocts a situation– with the help of actors, props and hidden cameras– in which unsuspecting citizens are videotaped reacting (or failing to react!) to bad behavior which runs the gamut from rude all the way to criminal.
The situation is allowed to progress until the citizens react in one way or another and the whole charade is then brought to a halt by the appearance of Quinones and crew, usually to the relief of all involved. The footage is analyzed, commented on by eggheads and experts, and various (dubious?) conclusions are reached about human nature and society. The "subjects" are interviewed and asked about how or why they chose to act or not act. Often, the producers will switch up the players involved, messing with their gender, race or age, to see if the results are different.
Regardless of what you think of it as entertainment or journalism (or social science), it's done with some imagination and it does well in the ratings.
Enter Vos. From what we can tell by watching the trailer (which you can watch here. Sorry, ABC doesn't allow embedding!), they tape a bunch of people at a comedy show and record their reactions as Vos does a Rickles-from-hell number on the club patrons. The headline on the video clip is "Comic takes insult jokes too far, audience boos." The voiceover says, "Would you stand up to the standup?"
And, as Quinones and crew are depicted breaking in for the "reveal," the episode is described as "An hour so explosive, we almost couldn't break in fast enough!" The trailer depicts various patrons reacting to Vos' insults– booing, shouting at Vos (at one point, telling him he "stinks!"), with some appearing to get up and walk out.
Of course, we're sure that the "explosive" hour will turn out, upon viewing, to be not nearly as incendiary as it's depicted in the breathless and craftily edited trailer, but we're still rather nervous about the whole thing.
The sub-head under the trailer asks, "Is this comic making jokes at his audience's expense?" To which we reply, of course he is! We were not aware that making jokes at the audience's expense was any sort of moral transgression. Which is the main problem we might have with this episode.
We'll reserve judgement until we watch, either in real time or via time-shifting. But we're letting our readers know about it.
One other thing of note: On the trailer, when Quinones and his camera crew break in to defuse the situation, we hear Quinones announce (and the words appear on the screen), "Hi ladies, hold on!" Interesting that the volatility of the situation is (or is perceived to be) fueled mainly by women. We note this only because it seems to us that the last few high-profile incidents involving hecklers or offended audience members have involved not males but females. These days, it is women who are more likely to be offended… or, at the very least, more likely to make their outrage known. Not sure if this is a thing or not.
Speaking of Vos, the documentary directed by his wife Bonnie McFarlane (and produced by Vos) will be sneakily previewed at Caroline's at 1 PM, Nov. 10, as part of the New York Comedy Festival. The movie will be followed by a panel discussion– the moviemaking couple will be joined by Susie Essman, Morgan Murphy and others.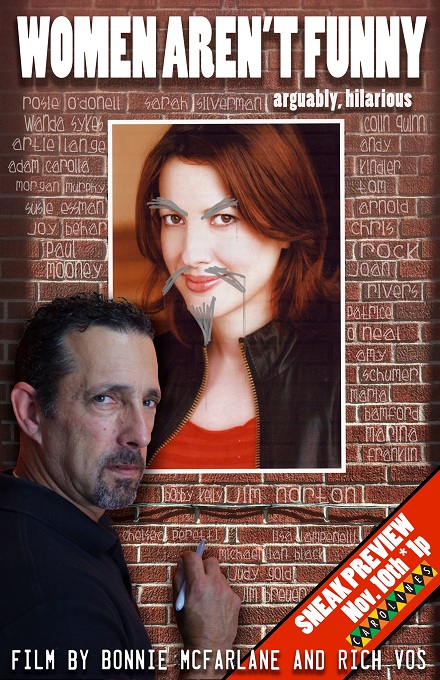 One Response
Reply to: What would you do?