SHECKYmagazine's Internet Quinceanaro!
Today is the anniversary of the launch of SHECKYmagazine.com! Fifteen years ago today, we uploaded our first "issue." Back then, the website had a magazine format– an interview or two, a couple of columns, some commentary and maybe a feature– which was uploaded just after midnight on the first of every month. Eventually, we went to every other month. Then quarterly. And then we turned it into a "blog." Back when you still had to put quotes around the word blog.
We evolved from a magazine "dedicated to the glorification of standup comedy," to an opinion rag that sought to do many things– inform, enlighten, debate, mock, amuse. We sought to offer provocative content on the art, the craft and the lifestyle that is standup comedy. Content that would be interesting to avid standup fans and standup comics as well as those in the entertainment industry and folks in the media.
Along the way, in response to a changing internet landscape, we made changes in the site. Initially, we saw ourselves as competing with other online publications or websites and news organizations. We took pride in breaking the occasional standup-related story. We frequently presented stories that weren't covered by the mainstream media and we offered a platform for our standup colleagues and fans to mourn or vent or commiserate– a platform that wasn't really available elsewhere. And, through documenting our journey as standup comics, we afforded our readers a peek into the lives of real, working comedians.
Often, we were tapped by the mainstream media to contribute a quote or an opinion as part of a feature story or a bit of analysis. We were the first publication– online or offline– to offer immediate daily updates on the Just For Laughs festival. (In 1999, we ventured to Montreal with a Polaroid instant camera and a scanner and we begged, borrowed or stole access to any dial-up connection we could. All with raging hangovers!)
Eventually, when cellphones, smartphones, wi-fi and social media exploded– when anybody and everybody was able to quickly disseminate news or commentary on matters related to standup– we narrowed our focus further. We went deep instead of wide. We went longform. We posted less, but what we posted was quite often lengthy and it invited commentary from our readers and sometimes set off debate.
Initially, a good portion of our content centered on our personal/professional lives– grinning photos from the green room, festival highlights, detailed accounts of our Last Comic Standing appearance. Eventually, in a process that happened so slowly we weren't all that aware of it, we found that, instead of immediately posting our lives on our website, we were using Facebook and Twitter for such dispatches. And, shortly after hitting Facebook Status "Update" button, we would stop and say, "Hmmm… I guess we should have put that on the magazine… oh, well…"
The longer form that we adopted is a form that suits us well, but it is rather time-consuming. And, three years ago, after moving across the country, our lifestyle changed dramatically. (Now, when we're home, we are, more often than not, working. That is in stark contrast to how we lived in New Jersey. And, occasionally, we find ourselves on the road separately– again, something that didn't happen prior to three years ago. And the vast majority of our writing has always been done as a collaboration– at the kitchen table or at a desk in a hotel room or in while waiting at departure area at the airport. And it's definitely not something that can be done over the phone! We're currently writing this, together, in our hotel room at the Borgata in Atlantic City.)
In a further evolution, we want to be able to write without looking a the clock or the calendar. So we're going to devote a good portion of our time (time that would have been devoted to posting on the magazine) to writing books. Maybe self-published Kindle books, or perhaps we'll spin out something that might pique the interest of a traditional publisher. We intend to harvest the content of the three or four thousand (!) posts and the dozens of interviews and columns we've churned out since 1999 and re-package it. With some updating and some re-writing we hope to create some interesting treatises on standup comedy and its relationship to the culture.
We aren't taking the site down. (But we're going to find a way to host it so it doesn't cost us as much money.) It'll still be there when you hit that URL. We'll still post here and there on matters that are important to us or that we suspect might be important to our readers. But we've been re-focusing lately and we've noticed that we're due for a change… again! It's always been about change. We've never stood still.
When you have a significant anniversary (like #15!), you take the opportunity to reflect.
And we hope that you, our readers, might indulge us a bit as we tick off the 15 most significant or meaningful things that happened to us, either directly or indirectly, because at one minute after midnight, on April 1, 1999, we hit "upload" and started SHECKYmagazine.com:
1. We got a book. A BOOK book– "The Comedy Bible: The Complete Resource for Aspiring Comedians." A physical book, published by a real publisher that was printed on paper and distributed through Amazon.com and Barnesandnoble.com as well as through brick-and-mortar bookstores– both here and in the U.K. (Across the pond, they titled it "Comedy Techniques!")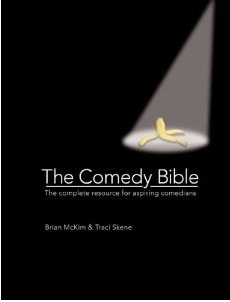 In our twelfth year of publishing SHECKYmagazine.com, we were contacted by a Quartet Books of London to write a book on standup. It was published in October of 2011. It was a dream come true. It had been our goal from day one to have an actual book in a bookstore. And it actually produced tears of joy when UPS dropped off the first copy!
2. We appeared on NBC's "Last Comic Standing." Together. We appeared on primetime network television in season seven of the standup-related reality series. It was possibly the most important lesson we learned in the decade-and-a-half of publishing the magazine. No matter how strong or negative or caustic our comments might have been over the years, they didn't necessarily result in burnt bridges. And our experience with Last Comic Standing illustrates this nicely.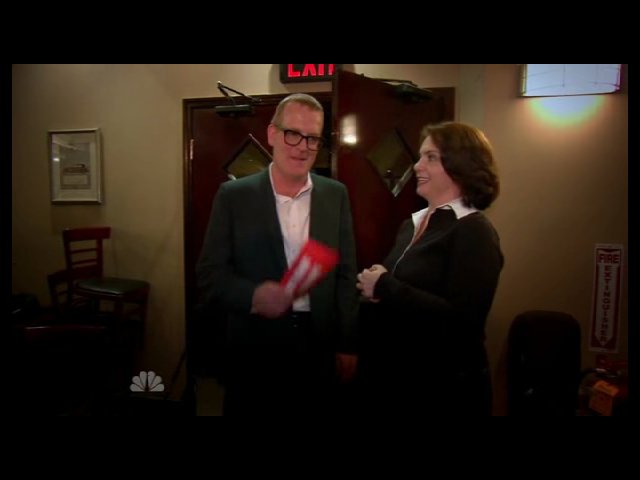 In the first season of the show , we ignored it. In subsequent seasons, when it was clear to us that the show wasn't going away, we offered our analysis of it. Sometimes we "live-blogged" it. On one occasion, we trained a video camera on a hotel television, in our room, so that we could watch the grainy recording of the episode and analyze it after we got offstage. And our commentary or analysis wasn't always flattering.
Through it all, we tried to offer an entertaining and honest opinion, though. And honesty, no matter how painful some folks might find it, is, more often than not, respected. So… even after all the grumbling we did about LCS, the producers of the show thought it would be a good idea to invite us to audition. And that journey eventually took us to Glendale, CA, and one of the craziest experiences of our careers.
We are proud of the writing we did about LCS. Initially, people told us that were crazy for trashing the show and that, if we ever hoped to get on the show, we should either say nice things about it or shut up. Once in a while, we hesitated for a moment or two before hitting the upload button, but we always put the magazine's mission ahead of whatever career ambitions we may have had. In the end, we were vindicated. And, as a bonus, our first-person accounts of our LCS experience is frequently cited by our readers as some of the finest, most interesting stuff we've ever offered.
3. We were tapped to collaborate on an article in USA Today. "Ten Great Places to Sit Down and Watch Standup" appeared on April 1, 2005, in the paper's Travel section. The byline was Anne Goodfriend. We provided the author with ten standup venues throughout America. We provided venues that were geographically diverse and important for one reason or another. Years after that article ran, some of the clubs that were featured are no longer with us. But it is gratifying when we see the endorsement mentioned on a billboard or on a club's website. It meant a lot to us and, apparently, it meant a lot to some of the venues. (And our readers thought it was neato that we went out of our way to include a one-nighter!) Along with the hit in the McPaper, we also garnered hits in (or were quoted in/on) the Washington Post, New York Times, Philadelphia Inquirer, National Public Radio, WCBS News Radio and dozens of other major daily newspapers. (And we were pretty proud of ourselves, considering we did all of our own publicity!)
4. We got to argue with reporters! We reserved some of our most vitriolic posts for journalists. From our very early days, we made it our mission to hammer any journalists– mainstream or otherwise, online or hard copy– who engaged in lazy or cliched writing about standup comedy. We realized that editors and reporters and writers were all too quick to rely on tired stereotypes when it came to writing about our business. Occasionally, one of them would write to us and gamely try to counter what we had written. (On one occasion, the standup writer for the New York Times wrote to us! We were simultaneously thrilled, but ultimately baffled why anyone from the NYT would care about us!) It was always great fun!
5. Getting contacted by Shecky Greene! One night, probably in our fourth or fifth year, we got an email from The Man Himself, inviting us to give him a call! A few minutes later, we were on the horn with show business legend Shecky Greene. We chatted about standup, about the entertainment business in general, about horses– it was a thrill. Eventually, we saw him perform at the Suncoast in Vegas in 2008 and got to meet him afterward! We saw him perform two more times after that. (And the last show we saw– at the Southpoint– might turn out to be his last show, as he announced, at its conclusion, his retirement from performing.) It means a lot to us to have met him and spoken to him (even more so now that we live in Vegas!), and we listed him in the ackowledgements in our book.
6. We covered the Just For Laughs festival in Montreal ten times. In May of 1999, after having uploaded just two issues, we got it in our heads to apply for press credentials to cover the biggest comedy festival in the world. And they approved us! When the fax came in from Montreal, our reaction was not unlike Robert Redford in the final scene of "The Candidate"– "Marvin, what do we do now?" We had no real game plan. Eventually, armed with the above mentioned mix of new and old technology, we provided our growing readership with the first JFL coverage of its kind. Over the years, it became many of our readers' favorite feature.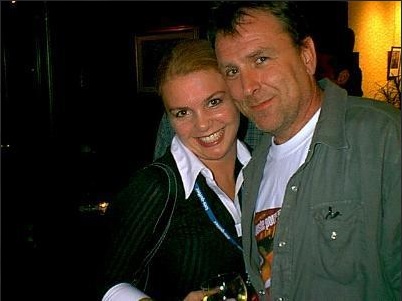 We were consumed with fear and uncertainty when we sat down at the Delta bar, in the early evening of our first day there. We had no idea how we were going to approach the giant beast that is JFL. Moments later, we spotted Dom Irerra cruising through the lobby on his way to pick up a rental car. He acknowledged our shouts, he greeted us warmly and he invited us to tag along with him as he eventually wound up at Club Soda, one of the fest's main venues. The whole experience made us realize that we knew a lot of people (and a lot of people knew us) and that this was possible, it was do-able.
7. Interviewing Dick Cavett. We somehow got his email address. We recall that it was no secret. Cavett was an "early adapter" of the internet. We were emboldened and we asked him if we could send him interview questions. He agreed to answer them. We carefully and nervously crafted a dozen or so questions. We were joyous when he prefaced one of his responses with, "Great question!" WOW! Dick Cavett complimented us! It doesn't get any better than that. That's like Joe Namath saying, "Nice throw!" Or Julia Child asking for seconds.
And we interviewed a bunch of other great comics. Shelley Berman, Richard Lewis, Triumph The Insult Comic Dog, Mitch Hedberg, Franklyn Ajaye… the list goes on and on!
8. Catharsis. This business is shitty. Shitty things often happen. Prior to starting a magazine about standup comedy, when a shitty thing happened to us, we would have internalized it, curled up into a ball and/or spoken about it as little as possible. Ignore it. It might go away. But… it doesn't.
It hit us like a bolt of lightning that it would be much better to talk about such incidents openly. And talk about them openly, we did! On those rare instances where something monumentally craptastic happened to us, we wrote about it. We opened up and spilled our guts. Some folks thought it was crazy. Others thought it was brave. When The Male Half bombed miserably at the Stardome in Birmingham, AL, (and got fired!) he immediately drove back to the hotel room and cranked out a monumental opus– "Bombing in Birmingham"– which set off a major discussion about bombiing… and about whether or not it's prudent to admit to said bombing. And when The Female Half was booed non-stop for 25 minutes (by a roomful of Opie & Anthony fans) while opening for the late Patrice O'Neal, she wrote about the clusterfuck in great detail. We received some of the warmest expressions of support and solidarity we've ever read. And, it is hoped, we maybe taught folks that bad things happen to good comics. We tried to save such grousing for larger issues. We did our best to do it without any bitterness.
9. Inspiring young comics. The Female Half tweeted a couple months ago: "Our book is inspiring people to pursue a career in standup comedy. And for this we will burn in hell." It's only half true. We hope. Over the years, we have had countless comics approach us and tell us that they started reading SHECKYmagazine.com before they got up the nerve to attempt standup. And that our musings had a profound effect. Now the book is having the same effect. We're not drunk with power or anything, but we must admit that it's gratifying.
10. Releasing our inner prick. We fully admit that– due to lack of sleep or a hangover or a road fatigue or simple boredom– we were capable of writing with extreme douchebaggery. But our vicious screeds were never hissed through clenched teeth… we were nearly always gleeful when we eviscerated someone (or concocted a horrendous nickname for someone). A particularly lethal turn of phrase usually had us giggling like schoolgirls or high-fiving. Being a prick can often be wearying and lead to despair. Sometimes, however, it can be exhilarating. (See #8 above.) We tried our best to reserve such prickery for those who truly deserved it. Only rarely did we ever have any "ouch" moments… and we don't seem to recall ever apologizing. Ooops… maybe.
11. We were on a billboard! Within months of moving to Las Vegas, we had our face on a billboard for a month! We can all agree that it's exceedingly rare to move to a new market and then –BOOM!– get your puss on a billboard. But comedy is all about timing. As we moved from New Jersey and settled into our new place in Nevada, we put the finishing touches on the book. And we got the gig that led to the billboard because of the upcoming publication of the book. (Which we got because of the magazine. See #1 above.)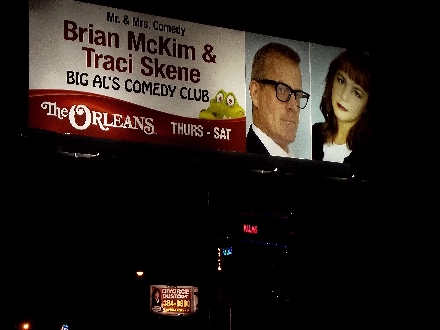 12. Editing the writing of our columnists. In the first five or six years of the magazine, we recruited a gaggle of writers from among our standup colleagues. And the folks who we recruited (or who lobbied us for a chance to write) turned out to be wildly talented. And we were so grateful to them for providing us with content and for entertaining our readers– without pay, we hasten to add. And, initially at least, they all did it on a monthly basis! (It seems like 30 days is a long time to cook something up for a column, but we imagine that it sometimes felt like a treadmill… but they always came through.)
Brian Whalen, Tom Ryan, Joe Dixon, Bonnie McFarlane, Doug Hecox, Paul Ogata, Tommy James, Kid Dave Miller, Adam Gropman, Rich Williams, Dan French, Jeff Shaw and many others were regular contributors. And once in a great while, we would run a one-off piece from a comic who participated in a far-flung fest or had a unique perspective. To all of them, we are exceedingly grateful.
13. We became "experts." As a result of all that press and getting quoted and authoring a book, we got this crazy reputation of being "experts" on standup comedy. (And, we admit, we helped along the notion here and there.) And, as a result of developing a reputation as experts on standup, we ended up being featured in no fewer than four documentary films over the past four years. We can be seen bloviating onscreen in Don Barnhart & John Bizarre's "Finding The Funny," in Gary Licker & Scott Sobel's "The Business of Comedy" and in Bonnie McFarlane and Rich Vos's "Women Aren't Funny." And we'll be featured in the upcoming "I Am Road Comic," the followup to Jordan Brady's well-received "I Am Comic." Anyone who has been in the business of standup for more than 25 years is probably going to be somewhat of an expert on comedy. But we suppose that the added trappings of a magazine and a book creates and reinforces the appearance of expertness. Experticity? (Making up words is fun.)
14. Personal growth. Just prior to starting the magazine, we were somewhat depressed and we were on the road to Bitterville. After analyzing, dissecting and eventually writing about all the stuff– bad and good– that has happened to us over the past fifteen years, we have achieved peace, for lack of a better word. Were it not for the magazine, we might have dropped out of the business. Or, had we stayed in it, we might have not been so placid or relatively happy. We have, by no means, achieved wild success, but we have made a living for a quarter of a century and we keep evolving and we are continually scheming to get to the next level, whatever that may be. And the fact that The Male Half was just on Late Late Show with Craig Ferguson a few months ago demonstrates that we take standup very seriously and that we're still engaged and have goals. And through it all, we have done it together. Standup can be a solitary experience. It can be lonely. It can lead to self-centeredness, as it is such an individual pursuit. But having this giant, living, breathing project that we've stoked (together) for fifteen years has made us more of a team.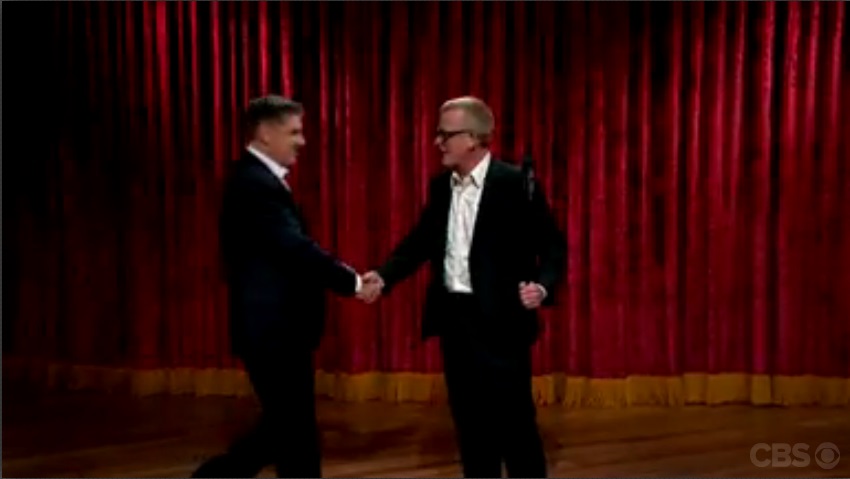 15. We created an identity. It still makes us laugh when people adress us (or refer to us) as "The SHECKY people." (Or the "Sheckies" or "The Shecksters" or "Mr. and Mrs. Shecky.") When you create an online magazine– and stay at it for 15 years– you become it and it becomes you. Occasionally, someone will refer to one of us as "The Female Half" or "The Male Half." It is the highest compliment. We are proud of the magazine.
It is interesting that a little idea can change your life. And in ways that you couldn't have imagined. It's not always about money, either– over the years we've never profited directly from the magazine… and, considering what we've spent on it, we have actually taken quite a hit. But we kept it free– free for our readers and free from profit! This, perhaps more than any other fact, has always baffled people. But we were never in it for the money. Good thing, too. Had we done it for the money, we wouldn't have made it past year three. But we sensed that there might be other rewards to be had for all the work. And we listed just fifteen of them above. (Of course, we would like to make money… we shall see.) We've slipped into the past tense here and there when talking about the magazine, but we stress that this is not the end. It is another beginning. Check back on occasion. We're not done yet.
9 Responses
Reply to: SHECKYmagazine's Internet Quinceanaro!